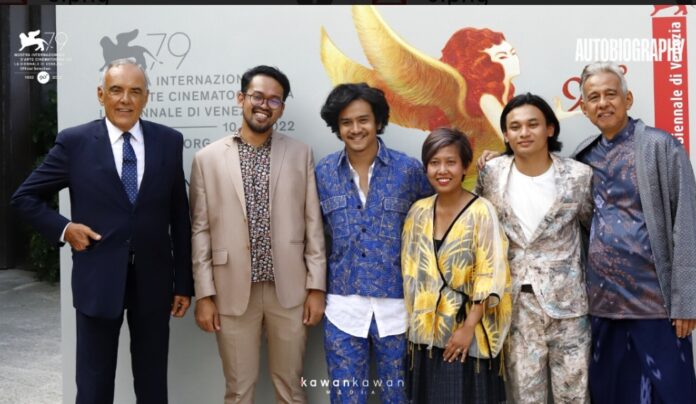 JKTOne.com – Autobiography' telah diputar di Venice International Film Festival 2022. Film arahan sutradara muda Indonesia Makbul Mubarak ini berkompetisi di seksi Orrizonti (Horizons) sebagai satu-satunya film dari Asia Tenggara, bersama film-film lain dari Ukraina, Jepang, Argentina, Italia, Perancis, Iran, dan lain-lain. Dibintangi oleh Kevin Ardilova, Arswendy Bening Swara, Lukman Sardi, Yusuf Mahardika, Rukman Rosadi, Yudi Ahmad Tajudin, Haru Sandra, dan Alm. Gunawan Maryanto.
Tim "Autobiography' yang berangkat ke Venice untuk menghadiri penayangan perdana dunia disambut meriah oleh penonton. Penayangan pertama dengan kapasitas 1400 orang pada 3 September bahkan sudah terjual habis sejak 30 Agustus. Setelah penayangan perdana tim "Autobiography" mendapatkan standing ovation selama 4 menit. Penayangan kedua juga sudah berlangsung pada 4 September di Palabiennale, bioskop terbesar yang dimiliki Venice Film Festival dengan kapasitas hampir 2000 orang. Setelah penayangan perdana di 3 September itu, media-media dunia spontan menumpahkan pujian dalam ulasan mereka.
Media hiburan terkemuka Amerika Serikat Deadline Hollywood menulis, "Terrific… A genuine discovery… Mubarak 5 rich, impressive film leaves a very Strong aftertaste". Asian Movic Pulse mengatakan, "Autobiography is a great debut for Mubarak, egually arrful, well-shot, and contextually rich, and one of the besi films we have seen Ilus year so far". Filmuforia memberikan bintang empat, "Indonesian director wruer Makbul Mubarak seals his reputauon as @ rising talent wuh a mature and cleverly-crafted feature."
Beberapa media lain bahkan memberikan rating penuh: 5 dari $ bintang. Setelah Venice, Film "Autobiography' terpilih masuk di Toronto International Film Festival 2022 di seksi World Contemporary Cinema dan berkompetisi untuk mendapatkan NETPAC Award. Toronto International Film Festival 2022  pada 8 September – 18 September. Lalu, perjalanan berlanjut dengan penayangan perdana Britania Raya di BFI London Film Festival pada 5 – 16 oktober 2022 di bioskop Indonesia.